Candidates of Japan International Cooperation Agency (JICA) Training Program for Young Leaders for African Countries (French)/Local Governance Course Visit Faculty of Engineering, Gifu University (Oct. 26, 2015)
2015.11.06
  On October 26th, 2015, nineteen (19) candidates of Japan International Cooperation Agency (JICA) Training Program for Young Leaders*1 for African Countries*2 (French)/Local Governance Course visited the Faculty of Engineering, Gifu University.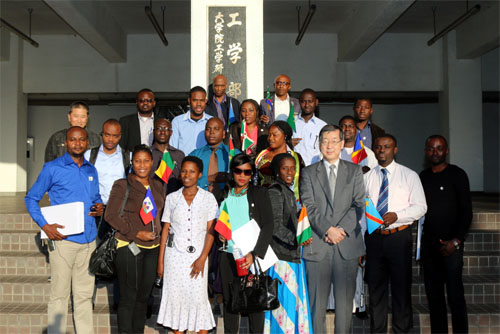 The trainees were all young administrators of national ministries or local governments from various African countries. Since Gifu World Youth (GWY) had accepted the training program this time, a one-day training at our faculty was conducted. The purpose of the faculty visit was to enhance knowledge on the system of promoting cooperation between government and academia in tackling issues related to disaster prevention and reduction caused by earthquakes in Gifu prefecture.
Keitetsu Rokugo, Vice Dean of the Faculty of Engineering, Gifu University provided a briefing on our faculty and introduced the project research centers.

  Next, Professor Nobuoto Nojima, from the Department of Social Infrastructure presented a lecture on "the earthquake environment in Gifu prefecture and the cooperation on disaster prevention." He also provided information about two research centers namely, Gifu Disaster Mitigation Center and Regional Disaster Mitigation Research Center. Expert staff from each center explained their projects, technical support on disaster prevention, nurturing disaster prevention leaders, education for disaster prevention, and so on.

  Following that, Professor Kazuhide Sawada, Chief of the Center for Infrastructure Asset Management Technology and Research (CIAM), Faculty of Engineering, Gifu University, gave a lecture titled "endeavor to nurture technical experts in maintaining and managing social infrastructure in local regions."

  On behalf of the training party, a trainee made the following comment: "We appreciate the precious opportunity to receive lectures and acquire valuable knowledge. We would like to utilize the measures aimed to prevent disaster in Japan, which we have learned."
*1) Training Program for Young Leaders: The Training Program for Young Leaders is conducted by JICA under a technical cooperation scheme of the Government of Japan with the purpose of promoting human resource development in developing countries, particularly young leaders who will become nation-building leaders in the future. Talented young people in their twenties and thirties from developing countries, who are likely to move into positions of leadership in the future, are invited to Japan and receive training in their fields of specialization as well as given opportunities to meet and associate with Japanese people.
*2) 11 participating countries (in alphabetical order): Benin, Burundi, Chad, Cote d'lvoire, Comoros, Congo, Democratic Republic of the Congo, Djibouti, Mauritania, Sao Tome and Principe, Senegal
[Japanese]
"Related Links"
>>Japan International Cooperation Agency (JICA)
>>Gifu World Youth (GWY)