Telecom ParisTech (France) Student's visit to the Faculty of Engineering, Gifu University (Jul. 17,2015)
2015.09.15
  17 students from France National University of High Telecommunication, Télécom ParisTech visited the Faculty of Engineering, Gifu University on July 17th, 2015 with the main objective to cultural exchange and deepen relationship between Japan and France. Their short term stay in Gifu was supported by Gifu Japan-France Association. This program has been conducted since last July 2014.

  Prof. Nonomura, Vice Dean Faculty of Engineering presented a brief opening remark and introduced the Faculty of Engineering. Afterwards, a speech was also given by the representative of Gifu Japan-France Association. Two students from Faculty of Engineering, Global Environment and Energy Course, Mr. Kihira Kazuma and Mr. Kentaro Ota were the moderators.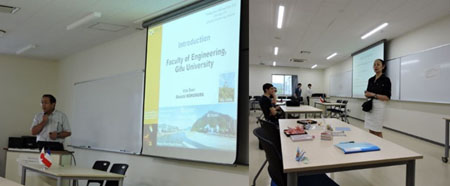 The opening session was followed by two laboratory tours of the Intelligent Mechanical Engineering Course supervised by Prof. Ito and Prof. Mori. An explanation and demonstration about the laboratory researches were conducted by students from human information science and robotics laboratory. The French students showed great interest and enthusiasm.

  Afterward, a group discussion was conducted between students of Telecom ParisTech and Faculty of Engineering, Gifu University. About 40 students participated in this group discussion and they were divided into several small groups. Mainly, they shared their impressions and talked about their hobbies. In addition, Japanese students demonstrated "origami" or Japanese paper folding to the French students.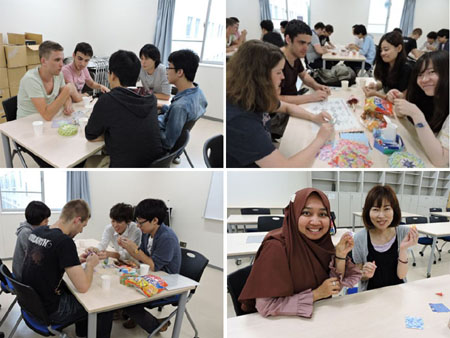 Finally, a closing greeting was given by Prof. Mutsuhiro Shima, head of the Globalization Promotion Office. He remarked that this kind of should be continued to further advance deeper understanding among students in in peaceful atmosphere.
[Japanese]
"Related link"
>> Website of Télécom ParisTech