The 2nd International Joint Meeting of Global Environment & Energy Course (GU-GLEE) (Nov. 4-6, 2015)
2015.11.10
  From November 4th to 6th, 2015, the Faculty of Engineering, Gifu University organized the 2nd International Joint Meeting of Global Environment & Energy Course (GU-GLEE), and was attended by some affiliate members of our international partner universities that had concluded agreements for academic exchange and cooperation with the Faculty of Engineering. Following the 1st meeting held last year, 10 delegates from 7 universities from 4 countries, namely India, Indonesia, Korea, and Malaysia participated in this year's meeting.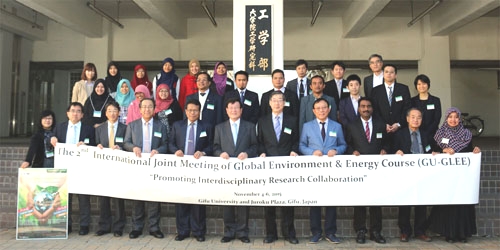 The main theme of the conference was "Promoting Interdisciplinary Research and Collaboration," with the aims to realize and promote research activities and mutual exchanges, as well as deepen relationships among our partner universities.
  Dr. Lee Wah Lim, Assistant Professor and Vice Head of the Global Promotion Office (GPO), moderated the meeting. Prof. Keitetsu Rokugo, Dean of Faculty of Engineering, Gifu University gave the opening remarks, and Dr. Hisataka Moriwaki, President of Gifu University, delivered a welcome message to the participants, expressing the hope that this meeting will eventually result in the advancement of mutual international collaborative research, fruitful research results, and nurturing experts. Subsequently, Dr. Mutsuhiro Shima, Head of the Global Promotion Office, introduced the various activities of GPO and GU-GLEE Course which was launched last spring, for instance, Global Internship Program, Special Guest Lectures from industries, and Workshop Design Course, etc. Afterward, the delegates of each university introduced themselves and their researches. Research presentations were conducted on the same afternoon and the next day. A total of twenty-one presentations was given in two days (9 on the first day, 12 on the second day), including presentation of research results on water-treatment, energy, supramolecular engineering, etc., from various fields of engineering such as social infrastructure, electrical and electronics, chemistry and biomolecular science, followed by a lively question-and-answer session . Finally, the meeting was successfully concluded by Dr. Keitetsu Rokugo who gave his concluding remarks at the closing ceremony.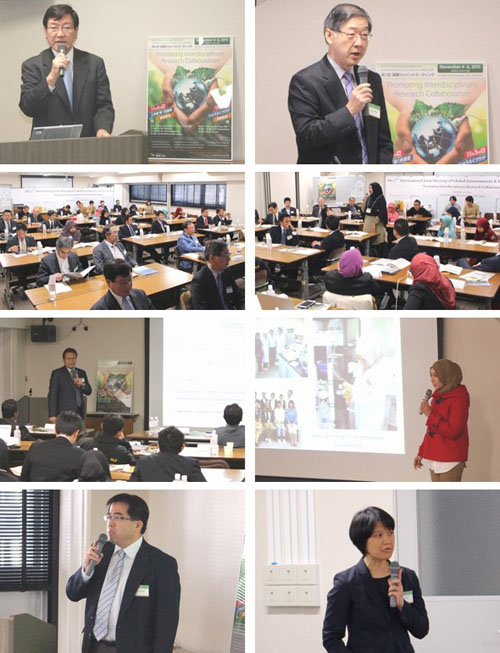 [Japanese]
"Related links"
>> Website of Global Environment and Energy Course(GU-GLEE)
>> The 1st International Joint Meeting of GU-GLEE [Dec. 2014]
"Related file"
>> Poster and program of the 2nd IJM of GU-GLEE (Pdf;371KB)