Ogaki Kita High School Student's Visit at the Faculty of Engineering Gifu University (Dec. 18, 2015)
2016.02.03
29 students from a Super Global High (SGH) designated school, Ogaki Kita High School, visited the Faculty of Engineering, Gifu University on December 18th, 2015.
This event was held to advance globalization in Japanese high schools with the underlying idea that a developed country such as Japan needs to nurture a younger generation of young citizens with a creative and international perspective. In order to increase sophistication as potential international leaders, The Ministry of Education, Culture, Sports, Science and Technology Japan has designed a special curriculum to realize the aims of internationalization among high school students. Ogaki Kita High School has been designated as one of several "Super Global High Schools (SGH) in Japan and the only one in Gifu Prefecture. Ogaki Kita High School is working closely with the Faculty of Engineering at Gifu University in engineering research and education as well as dealing with global issues.
Students from Ogaki Kita High School (environment and energy field) visited 3 laboratories at the Faculty of Engineering in order to understand how to solve the environmental problems through technical case studies. First, the students received an explanation about the research in 3 laboratories related to solar, water environment, and machines. Afterwards, the students joined the workshops to discuss engineering research and global thinking. The Workshop was conducted in English by GU-GLEE students. The students were divided into four groups. Each group conducted a discussion to share ideas, information about current issues, and the best way how to handle them. After that, a presentation was given by each group.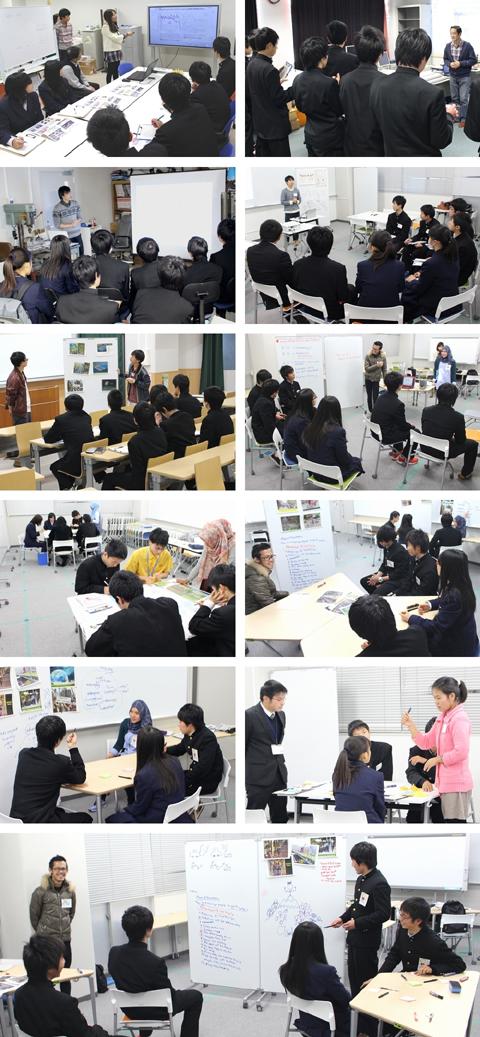 Even though the visit was rather short, the students were able to grasp some information in academic engineering and research. We hope that this program will assist students in determining their future course of studies in engineering.