Messages from Alumni and Students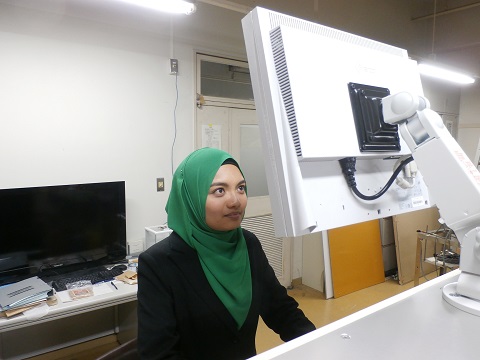 Liyana Binti Mohd Yazid
4th Year Bachelor Degree student
I transferred to Gifu University's 3rd year after graduating with a diploma from a technical college in Ibaraki. I chose this university based on the research themes conducted here. This university also came highly recommended by my technical college seniors who had chosen Gifu University as the place to further their studies.
Gifu University is no stranger to international students and you will bump into quite a few as you stroll around the campus. They also carry out numerous activities and have meet-ups with Japanese students who would like to polish their English skills. The faculty and students are very warm and welcoming.
My theme for my final year research is about solar cells, mainly about finding cheaper and more efficient methods of producing solar cells for mass production. A reduction in production costs and time will make them more affordable for consumers. Oil and gas reserves around the world are dwindling every year so making these solar cells easily accessible for the public is more important now, than ever.
(in Malaysian)
Saya memilih untuk melanjutkan pelajaran di Universiti Gifu selepas tamat pengajian diploma di salah sebuah kolej teknikal di Ibaraki. Saya tertarik dengan tema-tema kajian yang dijalankan di sini terutamanya yang berkaitan tenaga solar dan solar sel. Tema kajian tahun akhir saya khususnya fokus pada mencari kaedah menghasilkan solar sel dengan lebih murah dan pantas agar dapat diaplikasikan dengan lebih meluas lagi.
Universiti Gifu terdiri daripada pelajar dari pelbagai negara dan suasana pembelajaran di sini sangat kondusif. Warga fakulti dan pelajar Jepun sangat baik dan banyak membantu dari pelbagai segi. Ini adalah peluang yang baik untuk mempelajari budaya orang Jepun dan meningkatkan keupayaan Bahasa Jepun sambil mendedahkan mereka kepada budaya kita.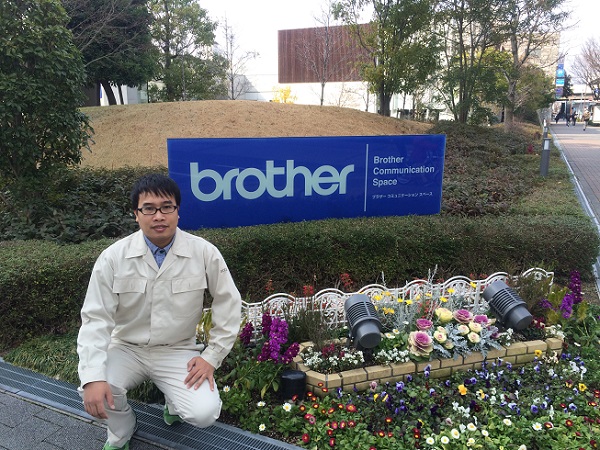 NGUYEN TRUNG KIEN
Alumni. He works at Brother Industries, Ltd as mechanical engineer.
To international students who hope to come to Gifu University to study:
My name is NGUYEN TRUNG KIEN. I graduated from the Mechanical Systems division of the Graduate School of Engineering, Gifu University in 2011 and now work at Brother Industries, Ltd. Ten years ago I had a dream to study abroad just like you. I entered Hanoi University of Science and Technology (HUST) in 2004 and transferred to Gifu University in 2007. I believe that was a right choice for me. I would like to tell you three major advantages of studying at Gifu University based on what I had learned from my experience.
1) Advantage in the aspect of studying:
Teachers who have extensive knowledge and experience provided us lectures with passion. Especially, they were kind to international students and took good care of us. Moreover, tutors extended various support when we were in trouble.
2) Advantage in the aspect of scholarship:
Gifu University offers various financial support for international students in the form of scholarships. It also provides a system in which students can apply several scholarships at the same time, with a high probability of receiving them. I won a scholarship offered by Mitsubishi Corporation (MC) for a year.
3) Advantage in the aspect of living:
I was able to concentrate on my studies because I didn't have to work part-time since the cost of living in Gifu is low. On the other hand, it was easy for students to find part-time jobs if necessary because Gifu University and senior students provided support.
I was able to concentrate on my studies and obtain various knowledge thanks to the advantages as I described above. I am now involved in a wide range of job responsibilities from designing to production at Brother Industries, Ltd. I would highly recommend studying at Gifu University.

Finally, I wish that your dreams come true, and good luck for your contribution to society.
(in Vietnamese)
Gửi tới các bạn đang có ý định du học Nhật Bản
Mình xin tự giới thiệu mình là Nguyễn Trung Kiên. Mình là sinh viên tốt nghiệp năm 2011 khoa tự động hoá cơ khí trường đại học Gifu và hiện tại đang làm việc tại tập đoàn Brother. 10 năm trước cũng giống như các bạn, mình đã ấp ủ giấc mơ du học. Năm 2004 mình đỗ vào trường đại học Bách Khoa Hà Nội và đến năm 2007 mình đã chuyển tiếp được sang trường đại học Gifu. Và đây thực sự đã là một sự lựa chọn rất chính xác. Với những trải nghiệm của bản thân, mình xin được giới thiệu 3 lợi thế lớn khi lựa chọn mái trường này.
1. Mặt học tập :
Đội ngũ giáo viên là những người thầy với kiến thức phong phú, giàu kinh nghiệm, luôn truyền thụ một cách nhiệt tình nhất tới các sinh viên. Đặc biệt với các du học sinh các thầy luôn dành cho sự quan tâm và chăm lo rất chu đáo. Hơn nữa trường còn thực hiện chế độ sắp đặt người hướng dẫn cho du học sinh, bản thân mình khi gặp khó khăn cũng đã nhận được rất nhiều sự trợ giúp của người hướng dẫn.
2. Mặt xin học bổng :
Nhà trường luôn nỗ lực để các du học sinh có thể nhận được học bổng. Khác với trường đại học khác, trường đại học Gifu duy trì chế độ cho phép đăng kí nhiều học bổng cùng lúc, nhờ đó mà tỉ lệ sinh viên nước ngoài nhận được học bổng cao, và khi còn là sinh viên nhờ sự hỗ trợ của nhà trường cũng như giáo sư phụ trách mình đã nhận một năm rưỡi học bổng từ công ty thương mại Mitsubishi.
3. Mặt sinh hoạt :
Vật giá ở Gifu tương đối rẻ, các bạn không phải chi nhiều cho chi phí sinh hoạt, nhờ đó bạn không phải dành quá nhiều thời gian làm thêm để trang trải cho cuộc sống và như thế có thể dành nhiều thời cho học tập. Còn trong trường hợp cần phải làm thêm, các bạn cũng sẽ nhận được nhiều sự giúp đỡ từ nhà trường và các đàn anh đi trước, với mình thì tìm việc làm thêm ở đây chưa bao giờ là một vấn đề khó khăn.
Nhờ những lợi thế nêu trên, bản thân mình đã dành được nhiều thời gian cho học tập và đã tích luỹ được rất nhiều kiến thức cho bản thân. Với những kiến thức học tập được tại đại học Gifu mình đã ứng dụng vào công việc hiện tại ở tập đoàn Brother với phạm vi công việc trải rộng từ thiết kế tới sản xuất. Thực sự lựa chọn đại học Gifu là điểm tới cho giấc mơ du học luôn là một điều mà mình muốn giới thiệu tới các bạn.

Lời sau cùng mình rất kì vọng các bạn sẽ đạt được ước mơ và trở thành những con người đóng góp được thật nhiều cho xã hội.」
(in Japanese)
岐阜大学へ留学を希望するみなさんへ

 私はグエン チュン キエンと申します。2011年に岐阜大学機械システム工学専攻を卒業した学生であり、現在ブラザー工業(株)で勤めています。10年前に貴方達と同じように海外留学の夢を持っていました。2004年にハノイ工科大学に合格し、2007年に岐阜大学に編入しました。やはり、岐阜大学を選択したのは大正解でした。自分の体験から岐阜大学の3大メリットを申し上げます。

①学習面:
 先生が豊富な知識、経験を持って熱心に授業をしてくれました。留学生に対して先生が優しく、良く面倒を見てくれました。さらに、チューターという制度があり、困ったときにチューターから様々なサポートを頂きました。

②奨学金面:
 岐阜大学は留学生が奨学金を得やすいように様々なサポートを充実させています。他の大学と違って、同時に多数の奨学金を申請する制度を維持し、奨学金を頂ける率が高く、私も学生時代三菱商事会社から1年間半奨学金を頂きました。

③生活面:
 岐阜での物価が安く、生活費がかからないため、一所懸命バイトする必要がなく、勉強に集中できました。バイトをする必要がある場合でも、大学や先輩たちがすごくサポートしてくれたのでバイト探しは簡単でした。

 上述メリットのおかげで、私は勉強に集中でき、様々な知識を身につける事ができました。取得出来た知識を活かして、ブラザー工業(株)で設計から生産まで幅広い範囲の仕事をしています。岐阜大学への留学は非常におすすめ致します。

 最後に,皆さんの夢が実現でき,社会に貢献できる人になることを祈っています。